Some little girls grow up with a real plan of what they want for their wedding day. Me? Well, I've had some vague ideas, but I don't think it's something I've ever really obsessed over. I recall thinking when I was very young, wanting the dress Satine wears in Moulin Rouge. It has always been one of my favourite films and I love the detail in the bodice fabric.

Before I met my fiancee, if you had asked me what my plans would be for my wedding, I'd have probably told you that I wanted a black and white theme. I had even considered wearing a black wedding dress. I've bookmarked a castle in Scotland with plenty of Gothic touches. I wanted to get married in the emerald wallpapered library. I would probably have gotten married around October time in the autumn. I can imagine my bridesmaids in black dresses with my childhood favourite flowers: blue roses (more to come on my obsession with dyed blue roses later...)

But I grew up. I met the love of my life. I adapted. Planning a wedding is truly a marriage of the interests of both parties within the couple. My partner is sunshine personified. My love brings out the very best in me. So when planning this wedding, actually sitting down and putting ideas onto paper, I have realised that my ideas and plans have changed entirely to accommodate us both as a couple.

As you can see in my previous blog post, I got engaged last July in Milan on our 6 year anniversary. Since then we had a lot of discussions about what we wanted in a wedding. It's only recently that we've actually set a date and started to plan. We've set the date for the 23rd of July next year. It will be on our 8th anniversary since we started dating. We always wanted to get married on our anniversary and engaged on our anniversary. It all just seems so special. But here we are in December and, as my wedding app reminds me, I have a mere 230 days until my wedding and all I've done thus far is booked the venue....

Okay, so I've done a lot of

planning.

I think we've planned out all the major details so far apart from our dresses (honestly, I'm still hoping to find a dress like the Moulin Rouge gown) but that may take more time. Especially as our wedding involves two brides, therefore it will involve two dresses.

(By the way, we

hate

constantly being asked 'so are you both going to wear dresses? Does one of you have to wear a suit? If you know any same sex couples getting married, don't ask it. Just don't)


So, 230 days to go. Roughly 7 months to get our ducks in a row. Originally, I didn't see much point in planning until we had booked a venue and secured our coveted 23rd of July anniversary wedding date. However, having booked our venue this weekend, the ball is well and truly rolling! Already I have seamstresses in wedding dress shops telling me to get a move on because apparently it takes months and months to perfectly alter a wedding dress. Who knew?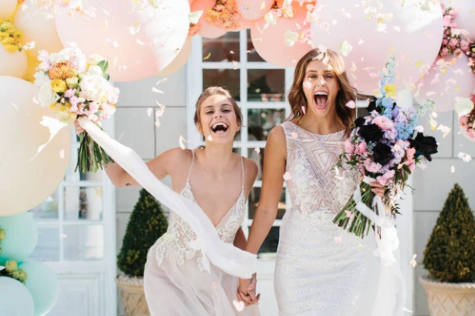 I used to do a lot of writing/blogging. I even wrote a book. My partner this evening lovingly suggested that I get back into writing blogs. What I've found recently, being a member of various wedding groups online, is that I quite enjoy the community aspect of it. We're all trying to put together our perfect day and other brides to be are often such a wonderful source of inspiration. I therefore thought it would be fun to write whilst I'm going through the wedding planning process. If I'm scrolling through and reading about weddings, someone may take enjoyment in my plans too. So over these next 230 days I'm going to try and write a little bit about my plans: wedding dress shopping, how we picked our venue, traditions we're going to reject, how to stick to a wedding budget. Hopefully some other clueless bride-to-be out there will find some comfort in this as I have done scrolling other blogs. So expect some more posts to come as I throw myself fully into a world of lace and cake tier decisions......